Bruce Alan Johnson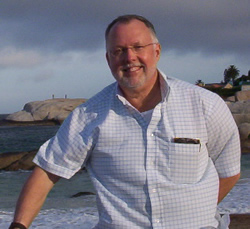 President and CEO
Mr. Johnson has run his own businesses worldwide since 1985. He helps clients in a number of countries to tackle international problems. He solves communication problems between private worldwide corporate clients and sovereign governments and universities, and guides companies in how best to tap international markets. His models for international business development thinking have been adopted by several companies. He has created more than 330 million dollars in financial engineering and countertrade programs that enable hard-currency-deficient countries to purchase goods and services from Western suppliers without adding to national debt. Johnson's current and past clients include:
• Hewlett-Packard
• Deloitte & Touche
• Rockwell International
• BMW
• Rand Merchant Bank
• Rainbow Farms
• Eli Lilly and Company
• The University of Stellenbosch
• The Pharmaceutical Manufacturers Association
• The Medical University of Southern Africa (MEDUNSA)
• Colgate-Palmolive
• Sprint International
• Ciena
• Armstrong
• British Airways
• T&N
• Lockheed
Having lived off and on in Africa over 30 years Bruce began teaching entrepreneurism to South African blacks in 1978, then was arrested for those activities and banned from South Africa by the government in 1979. Since returning in 1999, he has served as director of entrepreneurism in one township for a South African political party. After two official rejections by the South African government, he also won government approval for Eli Lilly's miracle diabetes drug, Actos™, driven by the fact that hundreds of thousands of young South Africans die needlessly every year from undiagnosed and untreated Type 2 diabetes.
A cum laude graduate of Claremont Men's College, Professor Johnson teaches occasionally in an adjunct capacity and writes in the areas of Philosophy, International Relations, the Effective Use of Interdisciplinary Thinking, and the History of Ideas. He is also recognized as a world expert on avian influenza, or bird flu.
Mr. Johnson has traveled in 76 countries over the past 38 years and lived in Europe, Turkey, and Africa. He is fluent in German, Russian, Spanish, and Turkish; conversant in French, Bulgarian, Afrikaans, and Swahili, and reads Greek and Latin.
Aside from having served part time in the White House in 1985-88, his former positions include:
• Senior Fellow for the Hudson Institute (a leading world think tank)
• Vice President of Worldwide Affairs for Hill & Knowlton (the world's largest public relations firm)
• Director of Business Development for ITT-Telecommunications
• Director of International Marketing & Operations for Schlumberger's data communications division Rixon (a leading French petro-technology firm)
• Manager of International Marketing for RACAL (the British electronics and telecommunications conglomerate).
He has served as a director on the board of the Washington International Trade Association. Formerly international editor for a leading radio publication, QST, Mr. Johnson writes regularly for newspapers and journals around the world. His work has appeared in more than 78 countries, most recently in Readers Digest, The Freeman, Telecommunications, and the Wall Street Journal.
Bruce Johnson has been a guest and keynote speaker in more than 25 countries, and on several radio and television programs in North America, Europe, and South Africa – most recently on NBC's Today show and South Africa's Third Degree.
Mr. Johnson has served as a delegate for the U.S. Government in global telecommunications conferences in Nairobi and Geneva; as a White House Speaker for the President's Commission for the Bicentennial of the U.S. Constitution; as special advisor to the President of the Republic of Bulgaria, the Hon. Dr. Zhelyu Zhelev; and was nominated in 1992 by Inc. magazine as Entrepreneur of the Year.